Home
Talk

39
543pages on
this wiki
Welcome to the Don't Starve Wiki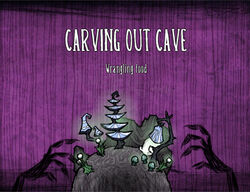 Caves are large underground sections of the world filled with unique features. They are so large that they are generated as whole new maps upon entering. Caves have their own artwork, terrain, and maps. Various creatures, plants, and other objects reside within.
Creatures
In addition to normal Spiders and Tentacles, the following creatures reside only in Caves (although some can later move to the surface):
Features
Stalagmites are a common sight in any cave, and can be mined for Rocks and other items. Similar looking Spilagmites are home to Cave Spiders and Spitters, and can only be destroyed with a Pickaxe. Less common are the Slurtle Mounds, which spawn slow-moving Slurtles and Snurtles.
---
Don't Starve Poll
What do you think about the new Reign of Giants DLC?