"
I will eat for a lifetime.
"
A Fishing Rod is a Survival item used to catch Fish or Eels at a Pond. It requires 2 Twigs and 2 Silk to craft and a Science Machine to prototype. The Fishing Rod can be used to catch up to 9 fish/eels before breaking. Fishing does not count towards Naughtiness, so the player is in no danger from Krampus.
The Fishing Rod can also be used to catch various ship wreckage from the coast, which returns various materials and miscellaneous items. This action also degrades Fishing Rod.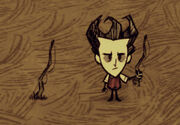 Ponds
can be found in any part of the map, but they are most common in
Marshes
,
Forests
, and
Grasslands
. To begin fishing, drag and drop the Fishing Rod on the pond or equip the rod and click the pond, and the character will cast a line into the pond. After 2–32 seconds, the line will tug and the "Hook" option will appear. Clicking the left mouse button on the pond will hook the fish, and an additional click will reel it in.
The more often any given pond is used for fishing, the longer it will take for another fish to bite. If the player does not reel the fish in shortly after "Reel in" appears after "Hook", the fish will escape and the Fishing Rod will be lost. The player can stop fishing any time by walking away or clicking the pond again. A fish respawns in a pond after 3.34 game hours.
When examined, most characters will say, "I will eat for a lifetime.". This is a reference to the proverbial saying, "Give a man a fish, and you feed him for a day. Teach a man to fish, and you feed him for a lifetime".
Sometimes a glitch occurs where the fishing hooks ends up in the ground instead of the pond, depending on the direction the player is facing and proximity to the pond. This can be fixed by changing the position where the player was fishing.
Sometimes if a fish is reeled in but the character tried to pick up another item before it hits the ground the fish will disappear.