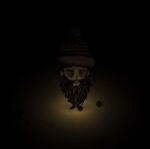 "
Heat without the flame... what fun is that?
"

–Willow
The 
Heat Stone
 is a 
survival
 item for keeping players warm in 
Winter
. It accumulates heat once near a fire, either placed on the ground, chest, or carried in a character's inventory (including
backpacks
). It requires 10
Stones
, 1
Pickaxe
, 3
Flint
and an
Alchemy Engine
to prototype.
While having a charge it emits warmth and delays the moment a character starts to freeze. It provides a maximum amount of 120 points of insulation. Additionally, as a heat source its maximum temperature is 60°C, and if we let T denote its temperature its five visual states correspond to the following temperature ranges, from coolest to hottest:
Freezing White : T <= 0°C
Blue : 0°C < T <= 25°C
Grey : 25°C < T <= 40°C
Yellow :40°C < T <= 50°C
Glowing Orange : 50°C < T <= 60°C
A fully charged stone, along with providing a lot of warmth, also creates a small radius of light visible at dusk and night, preventing Charlie from attacking the player. The size of the fire affects the maximum charge the Stone can attain. The Heat Stone will also provide any given Chest the same small radius of light it provides the player when it is stored in said chest.  
The color of the Heat Stone represents its heat.
| | | | | | | | |
| --- | --- | --- | --- | --- | --- | --- | --- |
| | ×10 | | | | | | |
This item was added in the Doorway to Adventure update.
Carrying multiple Heat Stones gives marginal benefit as they would all cool down at the same rate, although all heat stones will transfer their heat to the player as long as the temperature of the each stone is greater than the player's temperature.
Having some heat stones always waiting by the fire would allow for quick switching, instead of waiting for a single one to charge.
The crafting recipe allows even the most worn pickaxe to be used, so it could be a good idea to use a pickaxe with 3% durability (the lowest possible) to craft this item.
At its coldest state the Heat Stone actually freezes the player, so it's advised to remove it from the inventory when in this state.