"
That is the opposite of fire.
"

–Willow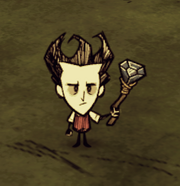 The Ice Staff is a Magic ranged weapon added in the A Winter's Tale update.
The Ice Staff temporarily freezes an animal or monster after 1-4 blasts. Small mobs such as birds and rabbits take one blast to be frozen, while big ones such as Treeguards take four blasts before they are frozen. Each use costs 5% durability equating to 20 uses.
Each time Ice Staff is used, character's
is decreased by 1.
Creatures that periodically drop things (such as Beefalos producing Manure) will still leave them behind while frozen.
Lureplants, Eyeplants, Rock Lobsters, Depths Worms, Chester, Baby Beefalos, Blue Hounds, Ghosts and Shadow Creatures are immune to its freezing effect.
In the Reign of Giants DLC, the Ice Staff can be used to extinguish smoldering or burning objects.
Freezing Effect
Edit
Mobs have varying resistance to the Ice Staff's freezing effect and may require several charges in order to be frozen.
3 Charges:

4 Charges:

12 charges: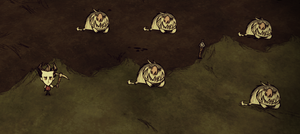 Occasionally, an Ice Staff can be found surrounded by Blue Hounds; this is a trap. When the Staff is taken, the Hounds will wake up and attack. They can be killed one by one while asleep, however, and the others will not wake up. The Ice Staff will have a random amount of durability.