Life Giving Amulet


Crafting
×3 ×2 ×1
Tab
Tier

+2/min
Durability
20 uses(Conversion of hunger to health); 1 use(Resurrection)
Perk
On death, resurrects the player and puts nearby mobs to sleep. Converts hunger to health.
Dropped by
(), ()
Stacks up to
Does not stack
DebugSpawn
"amulet"
"
I wonder who used to own this.
"

–Wendy
The
Life Giving Amulet
is a
magical
item which can be crafted from the 
Magic
tab. It
resurrects
the player on
death
, and slowly converts a player's
Hunger
to
Health
while equipped. It has a 9% chance to appear when a 
Grave
 is
dug
up. The Life Giving Amulet is one of three ways to be resurrected, along with the
Meat Effigy
and
Touchstone
.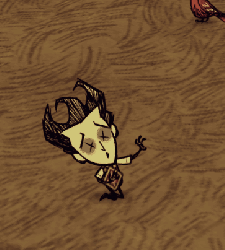 If the player dies while wearing a Life Giving Amulet, they will be resurrected the beginning of the next day. Any surrounding mobs are put to sleep and the amulet is destroyed. However, all bosses and some enemies, such as
Clockwork Bishops
, are immune to the sleep effect, so the player may die again. It is worth noting that the character is resurrected wherever they die, making it a trivial matter to recollect items.
The amulet recovers 5 health at the cost of 5 hunger every 30 seconds when it is worn until health reaches 100%. It reduces the durability of the item by 5% every time this happens, so it is possible for this to break without resurrecting the player. Wearing will also passively increase Sanity by 2/min.
Note: Resurrection will occur irrespective of how much durability is left (as long as it's above zero, of course).
Resurrection Penalties
Edit
 is set to 50
 is set to 2/3 of maximum
 is set to 1/2 of maximum
Empty inventory (items can be found at place of death)
The Life Giving Amulet was added in the The Birds and the Bees & Dogs That Want to Kill You update.
The Life Giving Amulet used to be called an Amulet before other amulets, such as the Nightmare Amulet, were added. It lost its old texture when it became the Life Giving Amulet, which was similar to the one used for the now defunct 'Gemology' crafting tab.
Before the Strange New Powers update, these amulets could be stacked.  As a result of this change, any stacks of amulets previously stored in chests were turned into just one amulet.
Before the Strange New Powers update, they required 6 Gold and 4 Nightmare Fuel to craft - these requirements were halved in the update.
The Construction Amulet seems to have the same model as this amulet.
Ironically, though this amulet resurrects you, it can still be found in graves.