See also: Teleportato
Maxwell's Door


Renewable?
Can't be destroyed
Common Biomes
Forest
DebugSpawn
"adventure_portal"
"
I'm not sure I want to fall for that a second time.
"

–Wilson
Maxwell's Door is a portal that transfers a player from Sandbox Mode to Adventure Mode. It is surrounded by Evergreens, Fireflies, and Evil Flowers. When the player goes near it, the machine will become active, appearing as Maxwell's face. It resembles the machine which brought Wilson to Maxwell's world in the first place, as seen in Forbidden Knowledge. It can be found with the help of a Divining Rod.
Upon entering, the player will appear with no inventory (except special items such as Lucy) or recipes, so players are required to begin anew in Adventure Mode. Health, Hunger and Sanity level will be restored, however. If the player dies in Adventure Mode, they will wake up in front of the Maxwell's Door in Sandbox Mode with their original inventory, Health, Hunger, Sanity level, and (in WX-78's case) boosts before entering the door.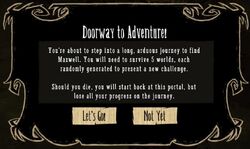 Before entering the door, this message will appear:
You're about to step into a long, arduous journey to find Maxwell. You will need to survive 5 worlds, each randomly generated to present a new challenge.
Should you die, you will start back at this portal, but lose all your progress on the journey.
There is a Yes and No option.
Getting close to the door will play the music used usually in update trailers (referring to the epilogue of Adventure Mode, with the Gramaphone).
If the player spawn Maxwell's Door using the DebugSpawn command in Sandbox Mode, the character will move to the first Adventure Mode world normally. If this is done again in said world, it will generate a new world (with the name that was intended) but will still say World 1 of 5. If the player spawns the door and enters five times (for each of the five worlds), the game will usually reach a black screen. This is due to the fact the Door has no data - DebugSpawn only creates the entity itself.