Meat Effigy


Crafting
×4 ×4 ×4
Tab
Tier
Perk
Reduces total health by 30, on Death resurrects the player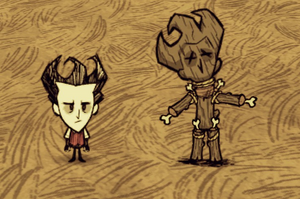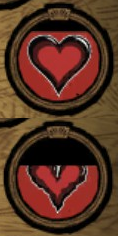 The Meat Effigy is a Magic structure that looks like a wooden statue of Wilson and is one of the three ways to be resurrected (the other 2 are wearing an Amulet or activating a Touch Stone).
Every Meat Effigy constructed lowers total health by 30 points, which can only be restored if the Meat Effigy is destroyed or used for revival. Building 5 Meat Effigies will lower most character's (except Wolfgang's) Health to 0 and kill them, after which they will be revived and restored to 30 health.
As long as there is a Meat Effigy standing somewhere in the world, the character will be resurrected at the nearest Meat Effigy, after death the Meat Effigy used will be destroyed. Alternatively the Meat Effigy can be destroyed using the Hammer; which will return the lost 30 health.
Resurrection Penalties
Edit
is set to 50
is set to 2/3 of maximum
is set to 1/2 of maximum
Empty inventory (items can be found at your death point)
| | | | | | | | |
| --- | --- | --- | --- | --- | --- | --- | --- |
| | ×4 | | ×4 | | ×4 | | |
Wilson: "What a handsome devil!"
Willow: "That is my insurance policy."
Wendy: "I'm just putting off the inevitable."
Wolfgang: "I'm not going to die."
Wickerbottom: "How very pagan."
Wes: (Mimes)

Maxwell: "

I'm not above using this."
When constructing a lot of Meat Effigies, (Or just one Effigy leaving your hitpoints to 15) while you are wearing an amulet, you are resurrected through the amulet having 0 hitpoints.